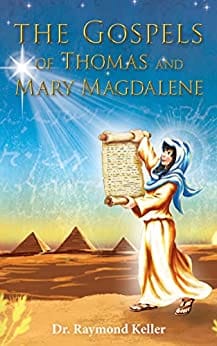 Two Block Buster Events in Glastonbury England
Event #1 GOSPEL OF THOMAS READ BELOW  
You should know that I will also be speaking at the Portal To Ascension Conference starting on August 11th thru 13th in Glastonbury click the above link.  I really hope my international followers will come to both of these wonderful events in August 2023
Dear Friends,
The Gospel of Thomas Workshop  Glastonbury England August 10th, 9 AM – 5 PM Purchase Button
I am honored to invite you all to come to Glastonbury England on August 10th to join cosmic Ray and myself for a one-day 8 hour workshop on The Gospel of Thomas and Mary Magdalene. I will be joined by the author of The Gospel of Thomas Dr. Raymond Keller and we will both be presenting an expansion on the teachings of this New Morning Star edition of the Gospel of  Thomas. 
May the glory of God be revealed in this workshop as the angels will be attending this most sacred event. Keep your heart open and your mind attuned as the gifts of the holy spirit are demonstrated in this workshop! Let those who are called and those with ears to hear and eyes to see come together in God's name to pray and receive his blessings.
This version is actually a divine gift given to humanity through the  Hierarchy of Light & THE MINISTRY OF ANGELS. I was honored to write the introduction for this Gospel and you may read my introduction.  Please click this link to see the entire introduction of this gospel here!
Furthermore, you can also read a snippet of  The Youth Gospel of Jesus See The Youth Gospel of Jesus click Here!
We are also including a Snippet of The Gospel of Mary Magdalene by clicking here!
LOCATION of THE GOSPEL OF THOMAS WORKSHOP 
DATE: 8-10-2023 9 TO 5 PM 
The event will be at Glastonbury Abbey. This is actually on the location of the first church ever created in England in 40 AD. This was a church made of wood and mud. Joseph of Arimathea who was Christ's Great Uncle took Mary Magdalene first to France and then to Glastonbury not long after his resurrection.
This church was built in 40 AD 7 years after the master's resurrection.
Many do not know that Mary Magdalene was married to Christ. They had two children and Mary was pregnant with their 3rd child at the time of his crucifixion! Thomas was also known as dydimus which translates as "twin. Thomas was Christs twin brother and this will be revealed in this workshop and also why this was hidden.  
All of this information will be explained as we go over the most accurate gospel today as it is revealed by the chosen messenger Dr. Raymond Keller.  Please read the introduction I wrote to these gospels in the link above and look over this website to gather more information that may be of interest to you. 
Please Learn about the Abbey and the location and the website click here
We will have the workshop in the Drawing Room Click here  There will be water coffee tea and some light snacks and fruit available throughout the day. There will be a lunch break and smaller breaks to enjoy the sacred grounds of this major power portal that exudes a very deep calm and peace.   
IF YOU HAVE ANY QUESTIONS PLEASE CONTACT ME VIA EMAIL- THEPROMISEREVEALED@GMAIL.COM OR CALL +1-530-925-3502
The schedule will go as follows. 
Glastonbury Schedule
9 AM – Introductions Opening Invocation and Prayers 
9:30 AM Rob will go over his introduction in the Gospel of Thomas 
10 AM 20-minute Break 
10:20 AM Dr. Raymond Power Point Presentation with Q and A.
12:30 Lunch Break
1:30 Guest Reading from each of the 4 gospels. With Group discussion and answers. 
3:00 PM Short 15-minute break.
3:15 PM The New Earth Prophecy and the Importance of the message of Christ and the Good News of hope and liberation that is seeing fulfillment in the present day. 
4 pm A Special Surprise!
5 PM Closing Prayer  
Tickets are 150 British Pounds 
Glastonbury Abbey Address:  Magdalene St, Glastonbury BA6 9EL
Getting to The Abbey 
By Car
From the M5 – Take Junction 23 and follow the signs to Glastonbury.
From the M4 – Either follow the M4 until the M5 exit and follows the above directions, or take M4 Junction 18 (A46) and follow signs to Bath, then take the A367 towards Shepton Mallet, then the A361 to Glastonbury.
From the M3 – Take M3 to Junction 8 (A303), head along until you reach either the B3151 (signs to Glastonbury and Street), A37 (signs to Shepton Mallet, picking up signs to Glastonbury) or A371 (signs to Shepton Mallet, picking up signs to Glastonbury) and follow signs.
Parking
The abbey operates a pay-and-display car park on Silver street. Enter the postcode BA6 8BS into your navigation device.
By Train
The nearest train station to Glastonbury is Castle Cary (on the London Paddington to Plymouth line). Transport to Glastonbury is only by taxi from here.
Alternatives are to travel to Bristol Temple Meads, Bath or Taunton. Onward travel can be via public service bus.
For accurate train times and information, please visit the First Great Western website.
By Bus
First Group provides services to Glastonbury – the 376 from Bristol and the 29 from Taunton – please visit their website to view their timetables and associated information.
IN THE LIGHT OF VENUS 
ROB & RAYMOND KELLER