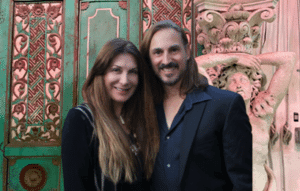 About Renee and Anthony
Modern mystics, teachers, and visionaries, Renee and Anthony are the voices behind Blue Soul Earth® which is focused on igniting global consciousness and bridging the worlds of science and spirituality.
They ignite the human potential and help others transform from within by tapping into their own innate wisdom, so the answers to the questions of "Why am I here? And, how do I step into my life purpose to live a more joyful life?" come with both ease and grace.  
They have developed Soul Alignment strategies and programs for individuals, entrepreneurs and businesses, which combine ancient wisdom with 30+ years of experience in marketing, branding, communications, launching start-ups, high-level speaker coaching (keynotes, TED talks et al), speech therapy and journalism.
They also lead Study with Spirit® courses and two Blue Soul MASTERS™ advanced programs, with an intention to help others reach an expanded level of consciousness and to become their own Ascended Master. Their Blue Soul IGNITE™ membership program is designed for those interested in ongoing spiritual guidance in all areas of their life, including relationships, wellness and business.
In addition to their strategic programs and teaching, they channel ascended masters and a collective of non-physical beings from subtler realms and dimensions, including Magdalene, Yeshua, Metatron, Melchizedek and others. Additionally, they are both Usui Reiki and Holy Fire Masters and certified in Pythagorean, Edgar Cayce and Platonic energy healing.
Combining their intuitive gifts, they tap into the hidden and inner worlds that shamans, sages and spiritual masters speak of and where transformational healing takes place. Their programs and teachings focus on Universal Consciousness, Heart-Centered Living and our Human Existence.
Renee and Anthony also lead Blue Soul Travel™ retreats to sacred destinations around the world and Dining with Spirit® experiences for those with a passion for both spirituality and food.
They have partnered with and/or spoken at events such as The Healing Summit, Gathering for Humanity, New Living Expo, Wisdom 2.0, IONS (Institute for Noetic Sciences) & the New York Times Travel Show and the Travel & Adventure Show. To dive deeper, visit bluesoulearth.com, subscribe to their YouTube channel, their podcast Blue Soul CHATS™, their Facebook page, Instagram and Twitter.